The Arizona Liberty Network is the largest coalition of experts and advocates in Arizona working alongside one another towards the same goal, keeping Arizonans free.  We do this by providing education on issues Arizonans are facing using one another's comparative advantages, being strategic and through coalition collaboration. 


Learn More
The American Federation for Children seeks to empower families, especially lower-income families, with the freedom to choose the best K-12 education for their children.
CONTACT
Steve Smith
480.225.8939
ssmith@federationforchildren.org
www.federationforchildren.org

Learn More
American Majority is the nation's premier conservative training organization, helping put in place a truly unique, separate political infrastructure—for use before, during and after election dates.
#activisttraining
#candidatetraining
#localpoliticstraining
#education
CONTACT
Alison Furno
602.684.0747
[email protected]
www.americanmajority.org

Learn More
Americans For Real Change (ARC) connects 130+ conservative groups in Arizona and helps each grow by instantly putting them in touch with ARC's massive memebership base and distribution network.
CONTACT
www.arcinaction.com

Learn More
​AzCDL is where grassroots activists take a stand, working at the Arizona legislature to get strong pro-rights bills written and passed into law, while stopping bad bills.
#ProtectingYourFreedom
#FreedomToCarry
#ProtectingYourRightToKeepAndBearArms
#BeHeardJoinToday
CONTACT
AzCDL Membership
PO Box 86256
Tucson, AZ 85754
623.242.9086
www.azcdl.org

Learn More
The mission of the AzCDL Foundation is to encourage the responsible exercise of the right to keep and bear arms by:
Firearms Safety – Promoting firearms safety, training, practice, and skill at arms

Firearms Training- Facilitating access to firearms training opportunities

Constitutional and Legal Aspects – Raising awareness of the constitutional and legal aspects of firearms possession, safety and use

Bringing FASTER Saves Lives to Arizona Schools
#FASTERSavesLives
#FirearmsSafetyAndTraining
#RaisingAwareness
#MakeOurSchoolsSafe
CONTACT
310 N Dysart Rd
Building B
Avondale AZ 85323
623.203.3790
www.azcdlfoundation.org


Learn More
The Arizona Federation of Republican Women (AZFRW) is a grassroots political organization with thousands of members in local clubs across Arizona.
CONTACT
Cindy Casaus
602.300.4185
[email protected]
www.azfrw.com

Learn More
A non-profit 501 (c4) legislative and grassroots organization dedicated to taking a principled, aggressive stand in support of our issues and policies.
#legislativeleadership
#policy&politicalstrategy
#gettingyourvoiceheard
#calltoaction
CONTACT
Darla Gonzalez
480.567.6407
[email protected]
www.azfree.org

Learn More
 The Arizona Freedom Foundation is a non-profit 501 (c3) organization that fosters independent journalism and provides people like you with access to news, research, and information not covered by traditional corporate media.
#AZFreeNews
#IndependentJournalism
#Accountability
#NoPayWalls
CONTACT
Eric Porteous
[email protected]
www.azfreedomfoundation.org

Learn More
Arizona Women of Action aims to revive the American dream of Strong Families, Safe Cities & Thriving Kids through simple, effective, and relevant actions, so you can make a difference on your schedule.
#education
#strongfamilies
#safecities
#thrivingkids
CONTACT
Courtney Konderik
602.684.6828
[email protected]
www.azwomenofaction.com

Learn More
Our AZ chapter serves to educate, advocate, and promote Constitutional values through legislation and fellowship.
#rebirthofpatriotism
#grassrootseducation
#faithfamilyfreedom
#consitutionalvalues
CONTACT
Nikki Colletti
623.202.5110
[email protected]
www.amacaction.org

Learn More
Center for Arizona Policy Action, Inc. (CAP Action) educates Arizona citizens on public policy issues pertaining to sanctity of life, marriage and family, and religious freedom, and encourages civic engagement.
CONTACT
Cathi Herrod
[email protected]
www.azaction.org

Learn More
Citizens for Free Speech (CFFS) is a national organization dedicated to protecting our First Amendment rights through local activism and provides tools, training, and support to grassroots leaders.
#activismtraining
#firstamendment
#civilcommunication
#grassrootsleadership
CONTACT
Kimberly Crowther-Miller
623.600.4027
kimberly.miller@citizensforfreespeech.org
www.citizensforfreespeech.org

Learn More
At Citizens for Renewing America, we seek to pick big national fights over strategic leverage points, win the debate, and let the momentum flow to policy change at every level of government.
#Woke
#Weaponization
#CRT
#DEI
CONTACT
Leslie White
720.260.9070
leslie@citizensrenewingamerica.com
www.citizensrenewingamerica.com


Learn More
Goals of the DC Project
Education
Raise awareness among community members, including legislators, that firearms safety and violence prevention are achieved through education not legislation.
Preservation
Encourage the preservation of America's gun culture, from conservation and commerce to competitive sports, hunting, and self-defense.
Advocacy
Highlight the diversity and rising demographic of female gun owners through ongoing advocacy because gun rights are women's rights.
#WomenForGunRights
#EducateNotLegislate
#TealFor2A
# PreserveYourRightsProtectYourFamily
CONTACT
DC Project Foundation
P.O. Box 281
Indiana, PA 15701
602.920.3215
www.dcproject.info

Learn More
EZAZ.org primary purpose is voter education on how our government works and how to be effective in operating our government as grassroots voters. 
CONTACT
Merissa Hamilton
480.374.0102
[email protected]
www.ezaz.org

Learn More
Friends of the Coalition is focused on recruiting candidates and providing training to run for local public office. We support education freedom, increasing student achievement, quality teachers, and increasing academic standards with traditional education. Friends of the Coalition provides information on local elections, County and State Superintendent elections, and bond and override elections! Additionally, we will showcase legislation that impacts K12 education.
#EducationFreedom
#SchoolBoards
#LocalElections
#BondsAndOverrides
CONTACT
Katie Ward
[email protected]
www.coalitionfriends.com

Learn More
The Future of Arizona (FOAZ) mission is to educate and empower our members to work for positive changes in Arizona.  
#futureofarizona
#educateconservatives
#educatearizonaconservatives
#learnaboutarizonapolitics
#whatishappeninginarizonapolitics
#learnaboutarizonapolitics
#republicaneducationinarizona
#azconservativepolitics
CONTACT
www.foaz.org


Learn More
Heritage Action is a conservative grassroots organization with activists all across the country. We advance conservative policy solutions that put American families, businesses, and interests first.
#policy
#activism
#grassroots
#federal&state
CONTACT
Nathan Duell
202.438.4201
nathan.duell@heritageaction.com
www.heritageaction.com

Learn More
We believe in restoring the intended relationship between parents and public education. Empowering parents and implementing policies that engage them as a partner, not an adversary.
CONTACT
Judi Privett
210-885-3314
[email protected]
www.momsforamerica.us

Learn More
Padres Unidos is a grassroots community support system dedicated to foster self-sufficiency and responsibility among families, believing that Successful Families Build Successful Communities.
CONTACT
Bella Biner
602.350.0268
[email protected]
www.padresunidos-npo.org

Learn More
Republicans need to become the party of solutions. RLC-AZ believes the best solutions to issues are rooted in free markets and individual liberty.
CONTACT
Dave Kahn
443.985.1680
[email protected]
www.republicanlibertycaucus.org

Learn More
RNHA has been an integral arm of the RNC since 1967. Our aim is to engage Hispanics in the electoral process at all levels, and increase membership in the Republican party. A huge priority is to create and sustain Hispanic-American Republican leaders. In Arizona for 2023 our goal is to recruit Spanish speaking PC's.
#leadership
#engage
#civics
#teamwork
CONTACT
Lori Martinez
[email protected]
602.339.0959

Learn More
The Defenders of Freedom in Arizona. Katie Hobbs' Democratic Fascism will not win under our watch.
CONTACT
Suanne Edmiston
724.322.9963
[email protected]
www.statefreedomcaucus.org

Learn More
Turning Point Action is a 501(c)(4) organization whose mission is to embolden the conservative base through grassroots activism and provide voters with the necessary resources to elect true conservative leaders.
CONTACT
Alyssa Goncales
520.349.8536
[email protected]
www.tpaction.com

Learn More
The Voter Reference Foundation is dedicated to ensuring transparent, accurate and fair elections in the United States of America. Our goal is to encourage greater voter participation in all fifty states.
CONTACT
Status as a coalition partner does not constitute or imply an endorsement by The Arizona Liberty Network of all activities, communications or publications of a coalition partner.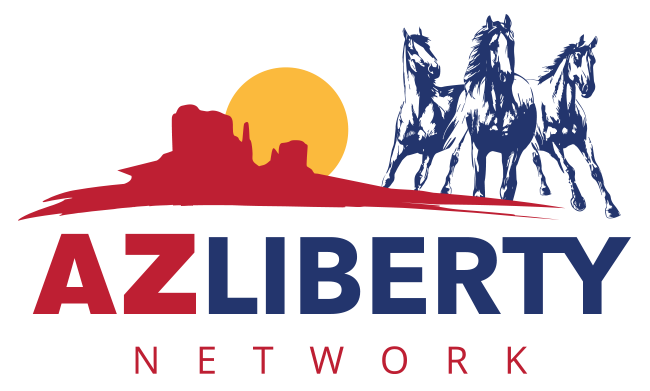 ADDRESS
835 W Warner Rd, Ste 101-441
Gilbert, AZ 85233
AZ Liberty Network is a recognized 501(c)(3) organization by the Internal Revenue Service. EIN: 92-1954611. All rights reserved. Copyright © 2023